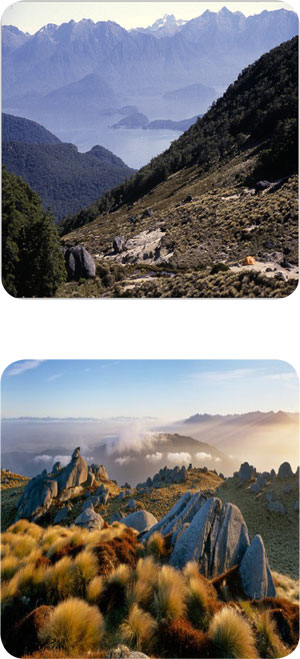 101: The Summit
Price AU$284*
Type of Activity:
Tramp (Hiking)
Difficulty:
Easy - Moderate
Spaces available:
9 Venturers, 1 Adult Leader
Mount Titiroa is in Fiordland National Park and provides a unique experience for those that accept the challenge to climb to its summit.
At 1,715 metres Mount Titiroa is a landmark of the Te Anau basin. It is ranked number 1 of the 7 Natural Wonders of New Zealand. The mountain summit area is known as Geiger's Garden, and sports a number of oddly shaped boulders caused by exfoliation in the granites.
Offering expansive views over Lake Manapouri, the Hunter Mountains and, on a clear day, Stewart Island, plus the native bush and fauna there is little doubt as to why it is considered by some to be one of the most magnificent areas on earth.
After hiking through some of New Zealand's best wilderness area Venturers will get to spend their nights in the open under the shelter of the Rock Bivvy, in the North Borland Hut and camping near Borland Lodge.
Join us and take in the majestic views that this expedition throws up in front of you with every turn in the track and the higher you go the greater the vistas. Remember your camera.
This expedition is led by Adventure Southland

Back to Phase 1 Expeditions

* Expedition pricing is based on an exchange rate of 1 Australian Dollar buys 1.18 New Zealand dollars. If the exchange rate drops below this, expedition prices will increase.