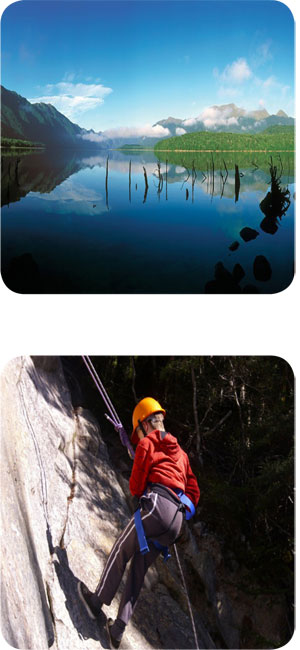 102: Lake Monowai
Price AU$352*
Type of Activity:
Kayak, Hike, Abseil, Climb & Caving
Difficulty:
Moderate
Spaces available:
18 Venturers, 2 Adult Leader
Lake Monowai is nestled on the fringe of Fiordland National Park and provides the explorer an easy pathway into some of New Zealand's best kept secrets, all while participating in an array of outdoor activities.
Lake Monowai is 31 sq km in size and lies in a long curved valley. It is drained in the northeast by the short Monowai River, which enters the Waiau River eight kilometres to the northeast. At the junction of the two rivers is one of New Zealand's oldest hydroelectric power stations opened in 1925.
This expedition starts by setting up camp at Lake Monowai for a night before sea kayaking to Port Campbell and Monowai Hut. Included is a hike to Borland Saddle which will be an overnight base before returning to Lake Monowai with rock climbing and abseiling along the way.
This expedition is led by Adventure Southland

Back to Phase 1 Expeditions

* Expedition pricing is based on an exchange rate of 1 Australian Dollar buys 1.18 New Zealand dollars. If the exchange rate drops below this, expedition prices will increase.