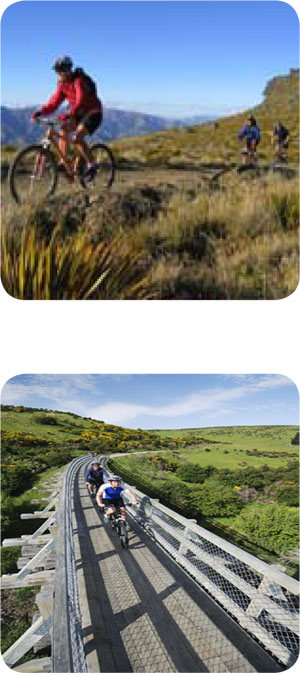 117: Mountain Bikes
Price AU$373*
Type of Activity:
Cycling
Difficulty:
Easy
Spaces available:
90 Venturers, 10 Adult Leader
Central Otago was the centre of gold mining in this part of the country not so long ago. Now the main rail route has been converted into a 150 km bike highway for people wanting to take a leisurely look at the bygone years.
The rail trail is similar to riding on a reasonably level gravel road or track, as the gradient rarely exceeds 1 in 50, but it isn't an asphalt pathway.
This journey will take you the full length of the Rail Trail as you pass through the historic towns of Hyde, Wedderburn, Lauder and Chatto Creek. Overnight stays will include Middlemarch, Ranfurly, Omakau and Clyde.
Highlights on the trail include crossing awesome viaducts and heading through tunnels. The scenery along the way is incredible and quite unique in parts. This trip is a favourite for local scouts and venturers throughout the Otago/Southland region.

Back to Phase 1 Expeditions

* Expedition pricing is based on an exchange rate of 1 Australian Dollar buys 1.18 New Zealand dollars. If the exchange rate drops below this, expedition prices will increase.