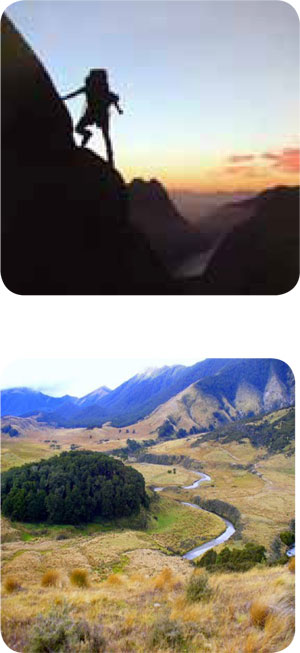 121: Tramp Xtreme
Price AU$225*
Type of Activity:
Tramping (Hiking)
Difficulty:
Moderate
Spaces available:
18 Venturers, 2 Adult Leader
Are you a seasoned tramper? Fancy testing yourself against the elements? Well here's your 2013 challenge.
The Takitimu Mountain Range is named after the ancient Maori migration waka (canoe) Takitimu.
In Ngai Tahu mythology the captain of the waka, Tamatea, named the mountains to commemorate the wrecking of his vessel in rough weather at the mouth of nearby Te Wae Wae Bay. In the traditional history of Ngai Tahu the waka was overtaken by three large waves; O-te-wao, O-roko and O-kaka followed by a cross wave which threw the vessel in land where the overturned hull became the mountain range.
Tramping tracks in the Takitimu Mountains take you through attractive open beech forest, tussock and screes and more challenging routes traverse the forest area.
This is tramping at its best and is a good challenge for the more experienced tramper.

Back to Phase 1 Expeditions

* Expedition pricing is based on an exchange rate of 1 Australian Dollar buys 1.18 New Zealand dollars. If the exchange rate drops below this, expedition prices will increase.